CUSTOM
Plastic Injection Molded Nameplates
An overview of the manufacturing process
1.Design, The first step is the graphics. This can be a custom company logo or product ID.
The graphic logo can be raised above the background, or recessed. The raised surfaces are hot stamped with a wide choice of metallic and solid color effects. The background is the color of the plastic molded part and can be color matched to your product, standard colors are white and black. The nameplate design can be sent to us as photo ready artwork on paper, or as a computer file in a *.ai, *.psd, *.tiff, *.dxf, *.png, format.
2.Tooling, The design is converted into a tool path computer program that is used to engrave the
nameplate cavity into an injection mold insert using a CNC milling machine. The insert cavity is then polished, inspected, and inserted into an injection mold.
3. Molding, The mold is mounted into a Plastic Injection Molding Machine where melted, colored, ABS plastic is Injected under high pressure, cooled, then ejected from the cavity. In this automatic process, molded nameplates can be precision produced in large quantities.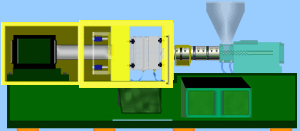 Plastic Injection Molding Machine
5. Hotstamping, The blank molded plastic nameplate is placed in a Hotstamp machine where the raised areas on the nameplate coated with the heat transfer metallic or color finish of your choice.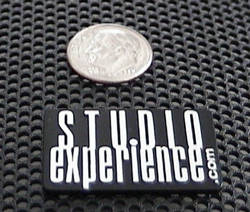 | | |
| --- | --- |
| | Injection Molded plastic nameplates are available in many standard colors |
| | Finishes include a wide choice of metallic and solid color effects |
| | Durable low cost alternative to expensive metal nameplates |
| | Easy ordering with fast friendly service |